HOME PROCESSORS WIRELESS SCENARIO BATTERY CARE BATTERY POWER LINKS
Laptop Power Maximisation
Most laptops are shipped with power management software which optimizes power usage to the different parts of the laptop and thereby conserving the battery life. However, when power managment is turned on there is a reduction in performance. Operating systems like Microsoft Windows XP also have power management features built into it.
When power mangement is turned on the screen brightness is lowered, the hard disk is put on standby (spin down), graphics and processor are prioritised and other devices that may be connected to the laptop are powered down. Only the most important processes and tasks are carried out. Even some of the latest mobile processors come with technology to help conserve battery life by speeding some of the tasks. This enables more task or processes to be executed in a short period of time. See the processors page for details on these features.

Laptop Power Maximisation Tips
Set the Windows power management settings to maximum savings
Use power management software/freeware
Use an AC power adaptor whenever possible. (Buying additional adapters to keep at home or office saves you having to carry one around)
Lower the brightness setting on the screen backlight
Disconnect any unused devices when not needed eg Modem, DVD Drive
Minimise the number of programs running at the same time
Use suspend or hibernate feature when taking a break
Add more RAM to reduce disk access time
Minimise game play and DVD viewing
Use disk caching programs such as Norton Utilities to reduce disk access
Keeping your battery clean and conditioned: see this page
For more information on taking care of your battery see the battery care page.
Longer Lasting Laptop Power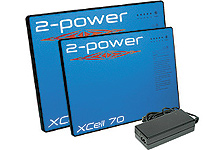 To get away from having to power your laptop by constantly plugging it into an adapter, you could look into replacing the worn out or degraded battery in your laptop with a new one. Advanced replacement batteries supplied by established laptop power product manufacturers such as 2-Power often provide 30% to 50% more battery life (capacity) than the battery which ships with a laptop. Some companies can also offer physically larger batteries or even specially designed external batteries shaped like a mouse mat which can power laptops for up to an additional 10 hours! The universal laptop battery is supplied with several small tips which fit different models of laptops. So even if you change your laptop, chances are that the universal laptop battery will power it, great for working on the move. Purchase this at www.ComputerBatteries.co.uk.